The 4th ICTSF World English Sporting Championships
Kelmarsh Hall, Kelmarsh, Northampton, Northants, NN6 9LY
July 13 - 16, 2017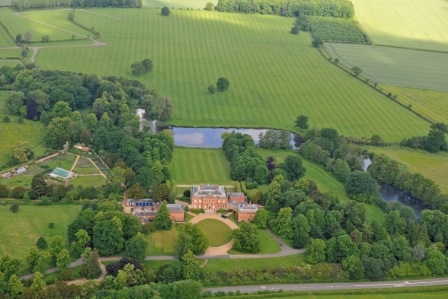 THE CPSA are delighted to announce that the 4th ICTSF World English Sporting will be held at Kelmarsh Hall on July 13-16, 2017. It will consist of the ICTSF World English Sporting Championships, CPSA English Sporting and CPSA Sportrap, set by Clive Bramley and his team at Doveridge Clay Sports.
Kelmarsh Hall is set in the Northants countryside and is a Grade 1 listed house open to public viewing. Set on a 3,000 acre site, in an area of outstanding natural beauty, the venue holds a long heritage with first-class facilities to hold this event.
Clive Bramley, who runs Doveridge Clay Sports added, "Kelmarsh Hall is a fantastic location to host the ICTSF World Sporting Championship 2017. It is something we are really looking forwarded to running and welcoming everyone. We will have loads of other side events which will keep everyone busy over the four days. The World Championship courses will be set in and around woodland that has never been shot in before. We would like to thank Kelmarsh Hall staff for helping us create new areas in the woodlands. The course will be designed and set by myself and Dave Dumelow."
Events:

The 4th ICTSF World English Sporting - £127
A 200 target shoot shot over 2 days (13th & 14th or 15th & 16th July) at Kelmarsh Hall. There will be a 25 FLASH target Super Final, where the top five shooters plus ties will compete for the title. The maximum number of shooters is 1,032 giving a maximum estimated cash prize fund of £25,800 (£25 per actual competition event).
The CPSA Sportrap - £53
100 Target shoot on either Thursday the 13th of July, Friday the 14th of July or Saturday 15th July at Kelmarsh Hall. A maximum of 360 shooters will be able to shoot giving a maximum estimated cash prize fund of £3600 (£10 per actual competition event).
The CPSA English Sporting - £55
100 Target shoot on Friday the 14th July. This event is squadded starting at 9 a.m. with squads going out every 9 minutes. A maximum of 276 shooters will be able to shoot giving a maximum estimated cash prize fund of £2,760 (£10 per actual competition event).
Schedule of events:
The Venue:​
​​The Kelmarsh Hall Estate is an agricultural landscape covering over 3,000 acres made up of a mix of arable cropland with pasture, woodlands and parkland. Farm land is the largest land use type and is managed by tenant farmers. Located in the heart of the Northants countryside, Kelmarsh Hall was built is 1732 and is now in the care of a charitable trust, charged with maintaining it in perpetuity for the benefit of the nation. Built for the Hanbury family by virtuoso architect, James Gibbs and builder, Francis Smith of Warwick, Kelmarsh Hall was praised by historian Nikolaus Pevsner as, "a perfect, extremely reticent design, done in an impeccable taste."
Much of the parkland lies above a deserted medieval village and as such is a Scheduled ancient monument. It is grazed by a herd of British White cattle, descendents of the herd established by the Lancaster family in 1903.
The surronding countryside and woodland area of the Estate is now used for various outdoor pursuits including off-road driving, fairs, archery, clay pigeon shooting, quad bike trails and much more.
For more information about Kelmarsh Hall, the Estate and the Kelmarsh Trust, click here.